Maori Dictionary's author rewrites negative reference for 'policeman' after complaint from parent.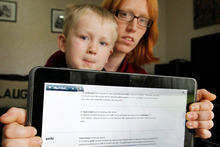 Lee Baker saw the entry while teaching her son Alex. Photo / Christine Cornege
Look up "policeman" in an online Maori dictionary and you used to find a suggestion that police carrying warrants should be "kicked in the backside" and thrown out.
John Moorfield, author of maoridictionary.co.nz, admitted the sentence appealed to his warped sense of humour – but has now changed it, after a complaint.
That came from Lee Baker, who was helping her son Alex, 4, learn te reo and was surprised with what she found in the online dictionary when he asked her what the Maori word for policeman was.
Read the rest of the article here
---
Comments on this article are now closed here. Please head over to the independent DODNZ forum if you wish to continue the discussion.